WELCOME TO MAUI CBD! THANKS FOR PURCHASING OUR AMAZING PRODUCTS.
QUESTIONS OR COMMENTS? PLEASE EMAIL US AT MAUICBDFARMS@GMAIL.COM OR SEND US A LETTER AT MAUI CBD PO BOX 901399 KULA,HI 96790.
WE Lab test OUR PRODUCTS each time we harvest, and we test each product separately. We use a Lab in Washington called Medicine Creek Analytics. We buy every test available, including heavy metals, pesticides, mycotoxins, microbiology, and residual solvents. WE HAVE A QR CODE ON THE SIDE OF OUR PRODUCTS THAT WHEN SCANNED TAKE YOU HERE. you can find all our tests on this page.
ALL OUR BOTTLES ARE PUT INTO A DARK VIOLET GLASS CALLED MIRON GLASS WHICH WILL PROTECT THE plants LIFE FORCE OF OUR OILS FROM BEING BROKEN DOWN BY LIGHT. EACH BOTTLE COMES WITH A TAMPER PROOF SEAL FOR YOUR PROTECTION AND ASSURANCE. EACH BOTTLE HAS A 2 YEAR RECOMMENDED SHELF LIFE AND HAS AN EXPIRATION DATE ON THE SIDE OF THE PRODUCT SO YOU ALWAYS KNOW YOU ARE GETTING A FRESH HIGH GRADE PRODUCT.
WE FOLLOW THE CGMP PRACTICES SET FORTH BY THE FDA, AND PREPARE OUR FORMULAS IN A CERTIFIED KITCHEN.
THE FDA HAS NOT EVALUATED THE CLAIMS MADE ON THIS SITE. THESE DIETARY SUPPLEMENTS ARE NOT INTENDED TO DIAGNOSE,TREAT,CURE,OR PREVENT ANY DISEASE.
Polynesian Sun Grown HAND HARVESTED Beyond Organic
Maui CBD lab tests july 2018
HEAVY METALS
IF ANY ARE PRESENT IT CAN INDICATE INDUSTRIAL WASTE,NUCLEAR WASTE, OR MINING WASTE. BODY IS VERY SENSITIVE. DEMAND TO KNOW WHAT YOU PUT INTO YOUR BODIES.
MYCOTOXINS
known to grow in peanut butter,but little known is that bad hygiene during processing, as well as mold contamination from storing improperly, can lead to a mycotoxin contamination. Again best not to chance it, and to go with the highest quality on the market period.
pesticide tests
We decided from the beginning to go way beyond organic with our products. We test for 60 plus pesticides, which make up 95% of all pesticide use on in the USA right now. You can rest assured that when you purchase one of our products, you will be buying the purest freshest life filled tincture on earth. So go ahead and share this with friends and family. Aloha from our family to yours.
Mike , Dasha , and Karuna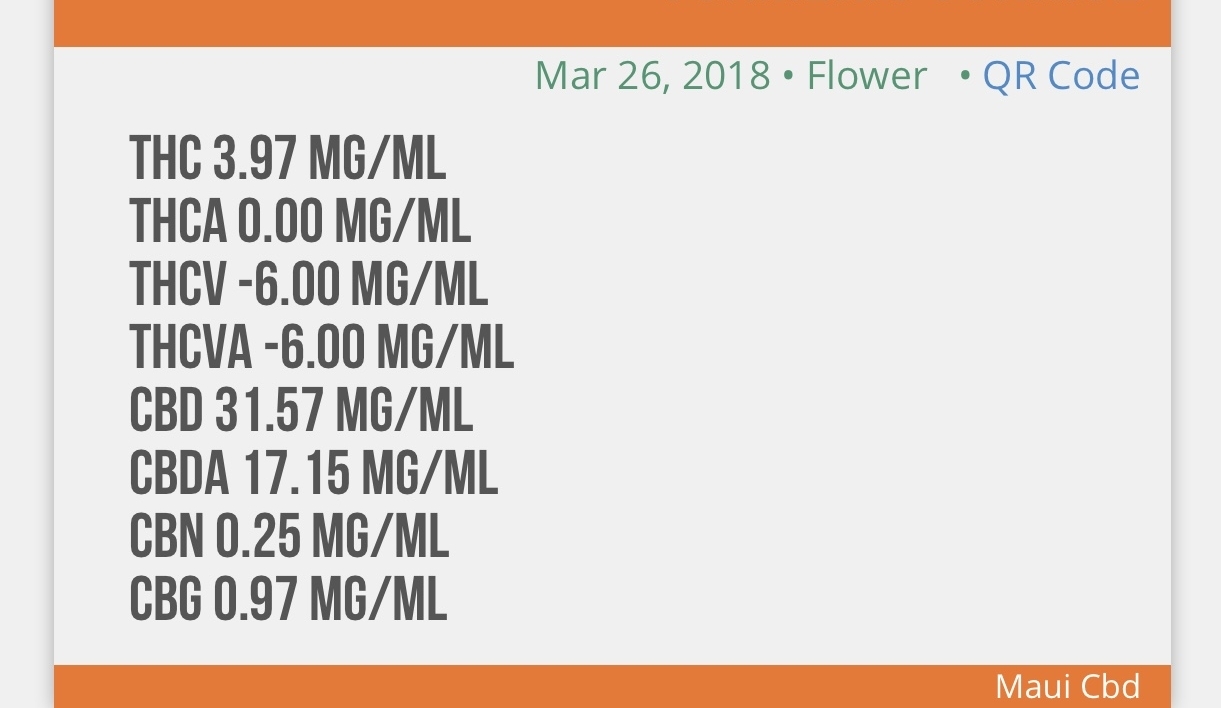 Above we have a full test of our polynesian grown hemp oil and as you can see we have a full spectrum oil that includes cbd,cbda,cbn,and cbg. we just finished a test done in california labs that are way more equipped. These test were done at 3 separate labs to assure accuracy. Thank You for demanding real quality,and third party testing to verify the potency and purity of our products. we recommend you do this with any cannabis or hemp product you come across.